In this section you can find our latest news and and special tours custom-made for a particular event.
                   MIR INSPECTION OCTOBER 2016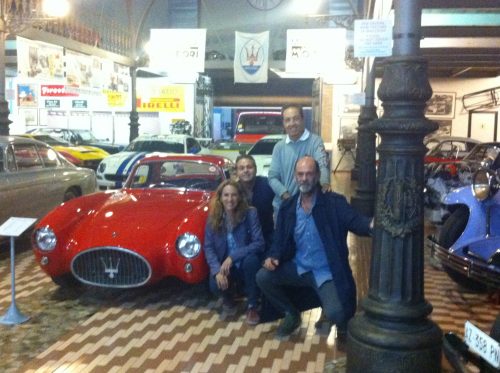 SEE MORE AT: https://www.viaemiliatours.it/mir-site-inspection-october-2016/
Ferrari Plus Italian Roads Equals
'Drive Your Dream' Tour
An awesome article by Antony Ingram for "Motor Authority"
talking about Via Emilia Tours
Follow this link:
 http://www.motorauthority.com/news/1092020_ferrari-plus-italian-roads-equals-drive-your-dream-tour
---
 Motor Gallery 2014
On Saturday 10th and Sunday 11th May 2014 the second edition of "Motor Gallery", the most famous "Made in Italy" engine exchange-market, will take place by Modena fair-ground.
This edition will display an unmissable exhibition: "The Spider, an open-sky dream", 40 years of history from the postwar period to the 80s.
The thematic exhibition will display about fourty Spider, among the most famous Alfa Romeo Farina and the most rare Ferrari cars, that from the postwar to the 80s have characterized the sporting cabriolet field.
From the Autobianchi Bianchina to the Ferrari 250 California, from the most elegant B24 Lancia to the historic Spider designed by Maserati, which changed the 60s all over the world.
The cars displayed come from Italian private collections and include extremely rare cars, as the Intermeccanica Italia and the Ferrari Daytona.
Ferrari, Maserati, Lamborghini, Pagani, De Tomaso, Lancia, Fiat, Alfa Romeo, Moto Morini, Ducati, Guzzi: these are just some of the brands presented by more than 350 exhibitors coming from all over Italy.
Moreover, some rare pieces from Mario Righini, Umberto Panini and Francesco Stanguellini private collections will show off the history and the beauty of the Italian automotive world.
Together with the exhibition "Motor Gallery", Modena fair-ground will house also the "Great market of accessories and spare parts": an area dedicated to more than 300 exhibitors of spare parts, privates, collectors, buyers and sellers.
2014 edition will house also privates who would like to offer their own cars, located in the outdoor area.
Another great collateral exhibition is foreseen inside the "Motor Gallery": "100 years from the birth of Maserati Spa", a homage to the centenary of Maserati, the company that since 1914 till nowadays has always been representing an important part of the history of sporting motor-sports, with some rare and unique pieces from Matteo Panini private collection.
Inside the Gallery it will be possible to admire the charming motorcycles from Salsapariglia, Sassi and Battilani collections.
The "Motor Gallery" is an unmissable event for all the vintage car enthusiasts, who will have also the chance to visit the museums partner of the initiative: the Casa Enzo Ferrari Museum, the Ferrari Museum in Maranello and the Maserati Collection inside the Panini Museum.
Via Emilia Tours is offering you this unique deal, especially made for this event:
pick up @ Rail Station in Modena – transfer to the Motor Fair in Modena and ticket entrance
early afternoon pick up from Fair Zone and transfer to Maranello to visit the Ferrari Gallery
end of the visit transfer to Modena Rail Station
possibility to visit the Museum Enzo Ferrari (walking distance from Rail Station)
option 1)
entrance @ the Motor Fair + Ferrari Gallery and transfer
min. 2/ 3 people : € 99.00 per person
min 4/6 people : € 59.00 per person
option 2)
entrance @ the Motor Fair + Ferrary Gallery + MEF Museum Enzo Ferrari's born house and transfer
min. 2/3 people : € 115.00 per person
min. 4/6 people : € 75.00 per person
For booking and further info please send an e-mail to: info@viaemiliatours.com